ABOUT US--

Anjerhaus Shepherds is located in Tacoma, WA. My name is Jeremy Floyd. My wife, Andrea, and I have been married since 97. We have two boys, a 25 year old and an 18 year old. I moved my wife up here from Brazil where she was born and raised, with the idea to start our lives together.

A house, children, and a dog (German Shepherd) are what we pictured. Even before I was in the picture, my wife has always

been fascinated with the breed. Her only problem was that most of the Shepherds bred in Brazil were used for security. Needless to say, she never really knew many well-tempered Shepherds. I, myself, had Shepherds growing up, and one of my best friend's parents bred Shepherds. All I knew were well-tempered Shepherds.
I brought our male home on Valentines Day as a surprise for my wife. Over the next several months he blossomed in to what we believed to be one of the best looking Shepherds we had ever seen. He is height and weight proportioned. His coloring and coat are bright and full, and his temperament was that of a big teddy bear.
With this, we decided to start breeding German Shepherds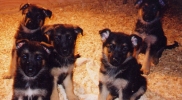 for the only reason one should, for the sole purpose of improving the breed. Before my wife and I started to breed, we got to know a local breeder very well. She bred German-lined dogs, which is what I prefer. We became very good friends in a short period of time. Our mutual understanding and love of the breed as well as our thoughts on particular German blood lines brought us even closer together. Susie became our mentor or so to speak. We wanted as much hands-on experience with breeding before we took that plunge, and Susie was more than willing to help us.
We found the time at least 5 days a week to help her feed, groom, socialize, train, and breed. You name it, we did it! Because Susie had exactly what we wanted, we decided to get our first female from her. We helped with the breeding of three litters, all within 2 to 3 weeks of the other. Before we knew it, we had 27 puppies running around. My wife and I made our decision on which combination of puppy we wanted, and at 8 weeks old we brought home our first female. We knew we were going to take all the correct steps in being responsible breeders.
About a year later, Susie's health started to deteriorate. She had diabetes all her life, and it had finally got the best of her. Susie asked Andrea and I if we would be willing to keep her lines going while she worked on her health. We agreed and took on 2 more young females. Both of which, she was going to breed after she retired their mothers. We had them not 2 months and our dearest friend Susie past away. After her passing, her husband had told us he wouldn't be breeding anymore. It was Susie's thing, he just helped her do it.
My wife and I now have 5 adult Shepherds, in which we like to work, show, and title with CD's, CGC's, TC's, HIC's and HCT's, and conformation.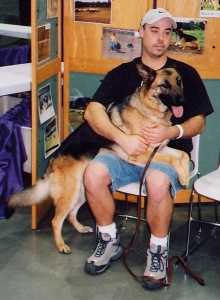 We have OFA'd our dogs before breeding, to ensure there is no hip or elbow dysplasia as well. Maybe years from now Andrea and I will add more dogs to the family, but we feel with 5 dogs, we still have the time to devote to them as well as each other and our children. We are very pleased with what we are breeding, and we are still learning as we go along.
Just as you think you know everything about this breed, they do something new to confuse the heck out of you. We never try and figure problems out on our own. We use fellow breeders and owners to help us understand the things we don't know, or haven't seen before, and vise versa (I hope). After Susie's passing, we had a few friends step up and guide us along. Dalene is our friend and obedience trainer. We take her classes to train and socialize all of our dogs. There isn't a single question that she hasn't been able to help us with yet. Thanks Dalene!!!
Another friend stepped in and took us under her wing, as she did for Susie many years before. I know we wouldn't be doing what we have grown to love if it wasn't for Susie, but I have to give a very special thanks to this person, who has went above and beyond anything that Andrea and I could have ever expected. Thank you, Kerry!!! You have been a wonderful friend, and have helped us in more ways than you can imagine. We love you.
Now you know a little about us and how we got started. Feel free to check out our website or better yet, email us. We are always willing to help answer any questions, direct you where you really need to be, or simple Shepherd chat. Either way, we feel we are breeding top-quality German Shepherds. Whether you are looking for a companion, search and rescue, Schutzhund, herding, show, or even a family pet, we have what you are looking for, and if not, we can direct you to other quality breeders who will have what you are looking for.